With myPI-LED NeoLink/ZigBee luminaires can be easily configured and controlled via smartphone, iPhone, tablet or iPad.
— Design and configuration of a network consisting of up to 200 NeoLink/ZigBee luminaires
— Fully automatic sequences are already stored in the NeoLink Box and are called via the myPI-LED App:
– Standard daylight course
– Saisonal daylight course
– Colour sequence (CCT and RGB sweeps)
— Versatile manual intervention options:
– Change of brightness, CCT or RGB colour
– Save and recall up to 16 light scenes
— Save and recall up to 16 light scenes
— Energy savings thanks to automatic power release of NeoLink luminaires in the network
The myPI-LED App is available as "myPI-LED" for free in the Playstore/Appstore and runs on the following operating systems: Android 4.0.3 and higher / iOS 7 and higher
Technische Daten

Versorgungsspannung

100 V – 240 VAC

Interface
1x Ethernet for connection to WLAN-Router
Connecting option for NeoLink luminaires (power release via internal relay) with max. output current of 5 A (maximum valid power rating 100 W)

Design Data

Downloads
Smart control
NEOLINK/ZIGBEE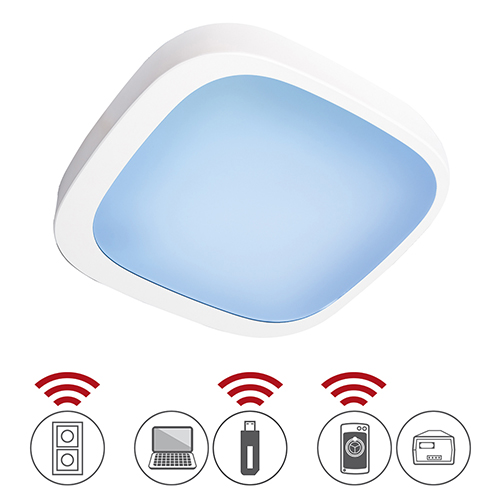 The innovative NeoLink/ZigBee wireless control opens up a world of new possibilities for Human Centric Lighting. Installation, maintenance and use become child's play and can be managed efficiently and intuitively. Subsequent Integration of biorhytmic KITEO light solutions in existing structures can be as easily implemented as installation in a completely new building.
The control data is transmitted over routes up to 100 m based on a routing process – and that too, with very little energy consumption. Thanks to a broad range of control elements, there is also a matching light control interface for every construction situation and every user. In addition to wall rotary knobs and NeoLink/ZigBee App for smartphones and tablets, a USB stick for controlling via PCs and laptops is also available.
Control functionality
Colour temperature, brightness and individual RGB light colours
Fixed mood lights combined with any dimming level and colours
Daytime- and colour sequences
Overall and group control